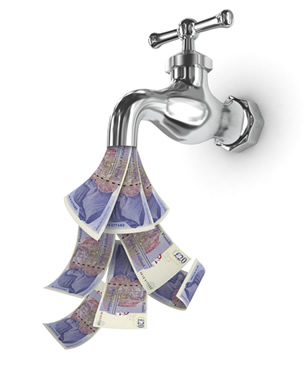 How invoice factoring works
Panel Financial UK offers an Invoice Discounting service which does not have to be a confidential service. We have a team of professional staff on hand to answer any of your questions and to help you manage your cash flow.
Invoice Discounting is a simple solution to your cash flow problems where money is drawn against the value of your invoices.
You raise an invoice to your customer, but send the invoice to us
We pay you up to 98.5% of the invoice value, subject to your customer profile
We pay the money into your bank the same day
We send the invoice to your customer and then we collect payment from your customer
You to get on with your next job without worrying about credit control
---
ABC Bodyshop raises an invoice for £1,100.00 to Direct Line Insurance for repairs to an accident damaged vehicle. ABC Bodyshop faxes us the invoice and we pay £1,067.00 into their bank account the same day. We then send the invoice to Direct Line and 45 days later we get sent a cheque from Direct Line for the invoice. This has allowed ABC to pay their staff, pay their parts suppliers and to get on with the next job.
All of this has only cost ABC Bodyshop just £33.00.
---
Move It Parcels does work for a mainstream parcel delivery company who can take up to 90 days to pay. We process Move It's invoices the same day.
Move It Parcels use Panel Financial UK so that they have the cash flow to put fuel in their vans each week.
---
Easy Read Signs has a large customer base. Every Friday they raise their invoices for the work they have done that week. They send the invoices to Panel Financial UK, the invoices are processed the same day and the funds paid straight into their bank account. Panel Financial UK then sends the invoices to each customer, sends monthly statements to each customer and manages all the payments. This means Easy Read Signs not only have improved their cash flow but also do not need to employ a member of staff to chase and manage their invoices.
---
Fix It Garage have the contract to repair all the vehicles for a large fleet company and a contract with a major insurer. This is a lot of work for the garage and they need to buy a lot of parts, the fleet work is paid regularly at 30 days but they are never quite sure when the insurer is going to pay. They want to pay for their parts up front so they get a better price. They give the invoices to Panel Financial UK and get paid the same day, this gives them the cash flow to get a good deal from the parts supplier and Panel Financial UK takes the worry out of when the insurance company is going to pay.
Interested? Why not contact us and discuss your requirements, we will thoroughly explain how we operate and quote you a fee.
The fee we quote is the only fee we charge, there are no hidden extras.
Benefits
Improve cashflow
No hidden fees
No minimum turnover
Faster payments
Easy to understand
---
Contact us
Panel Financial UK
PO Box 63
Malvern
WR14 2YS
admin@panel-financial.co.uk
01684 577675
01684 577678